Conference room
Choose • Relax • Work • Love • Have fun and Don't rush
The conference room at Nezvalova Archa is a non-traditional and unique space which resembles an art gallery. A collection of vases, paintings as well as a huge sculpture on the wall are some of many works by Jiří David that create pleasant and inspiring atmosphere at Nezvalova Archa.
The space is suitable for conferences, lectures, birthday parties, farewell parties and other social and cultural events.
Pricelist to download.
Call us and we will make it possible.
Conference Room Specifications
Area 100 m2
The capacity depends on the setup of the room
The room is connected to a joint kitchen on the ground floor – refreshment zone
Refreshment zone – a possibility to arrange for a coffee-break or use a self-service bar
Conference Room Equipment
High-speed Wi-Fi
Data projector and screen (HDMI and VGA port)
Presenter / laser pointer
Audio equipment
Flip chart
Adjustable lighting – adjusting the intensity, temperature and colour of the light
Types of setup of the conference room
Theatre setup – Capacity 45 people
"O" setup – Capacity of 20 people
"School 1" setup – Capacity of 25 people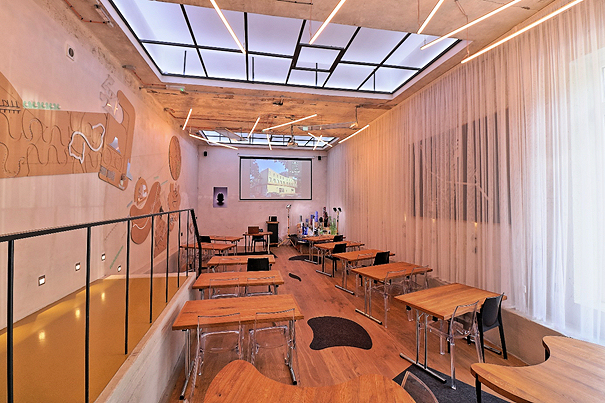 "School 2" setup – Capacity of 25 people
"V" setup – Capacity of 25 people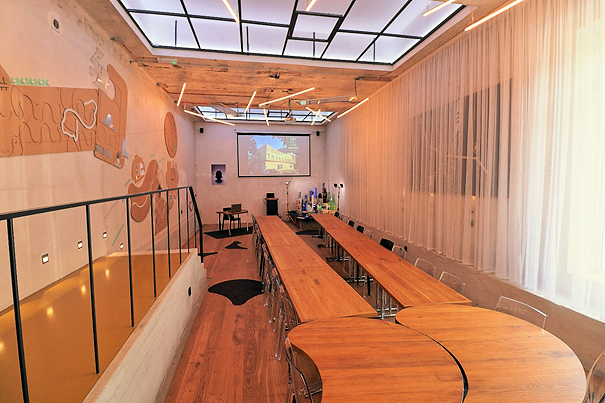 "Great table" setup – Capacity of 25 people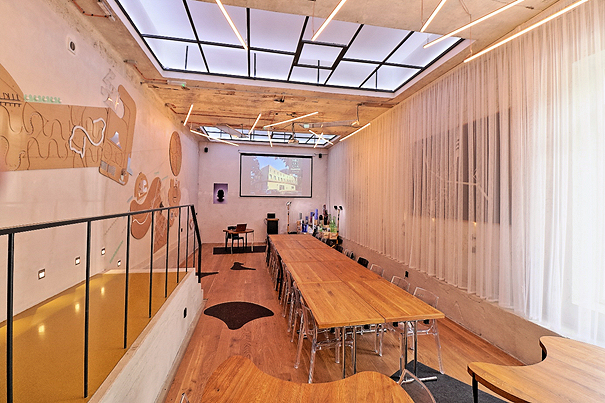 ---
Nezvalova Archa is a self-service smarthotel with a story.
Nezvalova Archa is a ship you can sail for one day, a month or a year.
Nezvalova Archa is a place where a businessman can meet a foreign student.